Utterly superb.
SFX Magazine
Insightful, suspenseful, and unsettling in its plausibility.
School Library Journal (starred review)
Simultaneously heartbreaking and thought-provoking.
The Bulletin for the Center of Children's Books (starred review)
January 29, 2035. That's the day the comet is scheduled to hit — the big one.
Denise and her mother and sister, Iris, have been assigned to a temporary shelter near their hometown of Amsterdam to wait out the blast, but Iris is nowhere to be found, and at the rate Denise's addicted mother is going, they'll never reach the shelter in time.
Then a last-minute encounter leads them to something better than a temporary shelter: a generation ship that's scheduled to leave Earth behind and colonize new worlds after the comet hits. But each passenger must have a practical skill to contribute. Denise is autistic and fears that she'll never be allowed to stay. Can she obtain a spot before the ship takes flight? What about her mother and sister?
When the future of the human race is at stake, whose lives matter most?

Best-Of-2016 pick by Kirkus, CCBC, Paste Magazine, and Chicago Public Library

ALA Best Fiction for Young Adults list

Three starred reviews

Praise from the New York Times, Chicago Tribune, and SFX Magazine
Details
Denise—sixteen, guarded, and autistic—tries to hold her family together in the aftermath of a devastating comet impact.
---
Publisher: Amulet Books (ABRAMS)
Genre: young adult science fiction
Release date: March 8, 2016
ISBN hardcover: 978-1419719035
ISBN ebook: 978-1613129012
Pages: 456
Cover: Shane Rebenschied (illustration); Chad W. Beckerman (design)
Other rights sold: audio, Dutch, Turkish, Spanish
---
Praise
On the Edge of Gone is in some ways about what happens to those who usually go unmentioned. … [It becomes] an excoriation of Y.A.'s traditional shallowness.
Duyvis creates a distinctive, nuanced voice for the autistic narrator of On the Edge of Gone … Readers also experience what it's like for even common social interactions to feel foreign, confusing and fraught with fear that you aren't reacting in the "right" way. Such challenges, both external and internal, only make Denise's ability to distinguish herself all the more admirable.
With an utterly unique and ferocious heroine at its heart, On the Edge of Gone is an on-the-edge-your-seat apocalyptic thriller that dares to ask the most difficult questions: at the end of the world, who is worth saving and how do you decide? Denise's raw, honest voice and her gripping story will stay with me for a long, long time.
Laura Ruby, Printz Award-winning author of Bone Gap
★ Duyvis expertly employs real science and vivid imagery to bring to life the most terrifying villain of all: Mother Nature. But it is the author's talent for writing about human nature that sets this book apart. Insightful, suspenseful, and unsettling in its plausibility, this novel is sure to stick with readers long after the last page has been turned. Verdict: A high level of believability and excellent writing make this diverse apocalyptic novel a recommended selection for any young adult collection.
★ Duyvis, autistic herself, draws a superbly nuanced portrait of Denise as a person (not a collection of pitiable autism tropes or cure narratives), but what makes this a winner is the nerve-racking adventure. Life-affirming science fiction with spaceships, optimism in the apocalypse, and a diverse cast that reflects the real world.
♡ Denise seems so real and behaves so convincingly that she sells absolutely everything else in the book, from her wanderings around the destroyed city of Amsterdam to a deadly mega-tsunami. Being autistic (her creator Corinne Duyvis is, too), sometimes all she wants is to put her head on a pillowcase nobody else has touched. You believe in her, and therefore you believe in her ruined world. Utterly superb.
SFX Magazine (SFX Loves selection)
★ With its strong post-apocalyptic storyline, this novel offers an edge-of-your-seat survival plot and a compelling narrative. It subtly raises questions about the value of a human life without didacticism or easy answers, and the diverse cast, including a biracial heroine and characters of various races, religions, and sexualities, gives the novel real-world authenticity and impact. Duyvis deftly balances broader social elements with a powerful family story, as Denise navigates fraught relationships with both her mother and sister, and a moving coming-of-age story, as she manages not just to survive but to flourish. Denise is a sympathetic character, who comes to terms with her limitations without giving others room to pity her … [T]his near-future scifi will gain fans amongst those who want a story that is simultaneously heartbreaking and thought-provoking.
The Bulletin of the Center for Children's Books (starred review)
On the Edge of Gone is an exciting read that packs in some deep thinking and real moral wallops along the way. … Dutch author Corinne Duyvis's tension-filled science fiction YA novel brings a complex moral center to the end of the world.
Shelf Awareness
[On the Edge of Gone raises] important questions about social issues that are as applicable today as in the not-so-distant future of 2035. … Readers are immersed in the tics and tactile aspects of Denise's condition as Duyvis skillfully incorporates an exploration of complex mental conditions, addiction, and gender identity into her narrative. It's a riveting apocalyptic thriller with substantial depth.
This is a compelling, standalone story about family ties, disability, and the need to survive.
On the Edge of Gone brings a dimension of reality to apocalypse stories that is sorely needed. … Duyvis complicates the issue of privilege and raises the question of who—in the face of limited resources—is worth saving? And how does Denise herself define "worth" in a world that values the things she is so often not? On the Edge of Gone is a rare gem of a book. It reintroduces us to humanity in all its varied life, raises the kinds of questions that unsettle readers, and disturbs their lives long after they've read the last page.
Set in a futuristic Amsterdam, this compelling novel is tense, visceral, and extremely well-crafted. It also offers a thoughtful exploration of ethical dilemmas: What would you be willing to do to survive? Whom would you save? And, in the face of pending doom, who deserves to live and who is expendable?
[T]his tale never falters. It's an unrelenting, gripping story of the apocalypse as-it-happens as well as a fantastic, character-driven novel. … [Denise's] voice is beautiful, emotional and profoundly moving … On the Edge of Gone is already on the run for a favourite novel of 2016.
Flowing seamlessly from intense action scenes to thought-provoking emotional drama, this well-written and perfectly paced novel is sure to keep you riveted. … Far from being your standard apocalyptic YA fare, this well-written and thought-provoking novel explores the human toll of a world-ending natural disaster. Relatable characters, tense action, and emotional turmoil make this book impossible to set down.
It's one of the few futuristic, post-apocalyptic worlds that are populated by characters that are as real and complex as the people alive now … Duyvis' books, apparently, just get better and better.
Denise's fear is palpable throughout, which helps to push this sci-fi novel into thriller territory. … Duyvis' attention to detail and strong descriptions will recommend this to fans of the genre.
The story is action packed, and the tension builds toward the [surprising] conclusion … The insights the author gives to Denise and her autism allow the reader to have an understanding of how she has learned to overcome or cope with the moments when she knows she might spin out of control, yet she proves to be fully capable of leading this story to its satisfying ending.
VOYA
Editions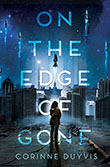 Publisher

:

Amulet Books (ABRAMS)

hardcover: 978-1419719035
ebook: 978-1613129012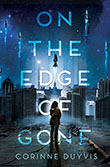 Publisher

:

Audible (Amazon)

Brilliance Audio

Narrator

: Stephanie Willis

audio CD: 978-1531889425
digital audiobook: B01F7RGADG



Publisher

:

HarperCollins Holland

Translator

: Angelique Verheijen

paperback: 978-9402723007
ebook: 978-9402751994



Publisher

:

Yabancı Yayınları (Ithaki)

forthcoming


Publisher
:
Autismo Ávila
forthcoming
Art
My cover was illustrated by the amazing Shane Rebenschied, and designed by art director extraordinaire Chad W. Beckerman. Below is a version of the illustration without the text, so you can see the art without anything in the way.
I'm also lucky enough to receive occasional fanworks, be it art, edits, or more. For creative works related to On the Edge of Gone, visit the "oteog creativity" tag on my Tumblr.
Articles & Interviews
For more about On the Edge of Gone, check out the articles and interviews I've done over the years.
Content Warnings
If you need warnings about potentially triggering or otherwise upsetting content before reading (or choosing whether to read) On the Edge of Gone, I've listed the ones I can think of below. Includes spoilers.
relentless tension and fear of death
parental neglect and drug abuse
external and internalized ableism, including mild ableist language
racist microaggressions
comet impact and natural disasters resulting in global-scale death of people and animals
humane euthanization of cats
graphic description of accidental injury
graphic near-drowning scene
violent tsunami strike
off-panel death of a named teenage character
starvation, rationing, and food descriptions
Holocaust references
blackmail
ransacking of room/personal items
FAQs


Can I have a review copy?

Perhaps! Contact my publisher; they're in charge of these decisions.

If you contact me directly, I probably won't be able to help. I only get a limited amount of copies for personal use, and sending them abroad (which is nearly always the case) costs a lot of money. I'd have to spend well over €30 of my own money for each requested book, which I can't afford. Sorry!



Will your novels be available in my language?

Check out my books' individual pages! If an edition in your language isn't listed there, it either means that no such translation is forthcoming, or that we're still trying to make it happen and I can't announce it publicly yet. Either way, the page will have all the information I'm able or allowed to give you.



What's the proper terminology when talking about you or Denise in On the Edge of Gone?

Thank you for asking. Although I never want to dictate reviews or articles, a lot of people seem unsure about what words are or aren't okay to use, in particular with regards to disability or autism.

Autism: For both Denise and myself, feel free to use "autistic" or "with autism." I'm fine with either term. I do prefer the former, so please don't feel the need to go out of your way to use person-first language. There is also no need to correct anyone else who uses person-first language to refer to either Denise or myself.

Disability: The same applies. Either "disabled" or "with a disability" works. I lean toward the former even more strongly in this case.

Other phrasing: I would appreciate it if you avoided inherently negative phrasing like "suffers from autism" or "afflicted with autism." Depending on context, things like "struggles with autism" may be fine, as Denise does in fact struggle with her autism throughout the book – just like she struggles with people's reactions to her autism.

Conversely, seemingly positive phrasing like "overcoming autism," "inspiring," and "high-functioning" are loaded terms within the disability community. I would ask people to consider those terms carefully and perhaps read up on the context.

The diagnosis of "Asperger's" is no longer in use and certainly wouldn't be in 2035, when the book is set, so Denise should not be referred to as such. I prefer not to use the term for myself either.

If you've already used these terms, please don't worry; I'm not trying to call people out and I don't have anything specific in mind when writing this. I'm delighted about anyone choosing to talk about the book in the first place! But a lot of people have asked me about terminology, so I thought I'd have my thoughts out in the open.



Will there be a sequel to Otherbound or On the Edge of Gone?

There are currently no sequels planned to either book; they were always intended as standalones.

I'm always open to the idea of revisiting possible sequels or companion novels if I get an idea that works, but it's not something I'm working on or pursuing.