A compelling story about identity and trust [and] a joy to read from start to finish … Corinne Duyvis nails it.
The Mary Sue
We are Groot! When the Guardians attempt to evacuate a Kree prison planet and end up in a fight for their lives – what else is new? – they discover their old pal Groot is stretched a little thin. Someone is planting stolen branches of the monosyllabic hero and selling the saplings across the galaxy! The search to find Groot's missing pieces forces the Guardians into an alliance with the unscrupulous Collector, but the real problem is more complicated than he wants them to believe. The seller is a kid. And she's got more than a few things in common with Gamora – like green skin and a wild temper. Now with an unruly teen in tow, the Guardians attempt to track down the remaining Groots – and discover an interplanetary conspiracy. War looms on the horizon. It's a race against the Collector, Groot himself, and the entire Kree armada. It's battle as Rocket likes it best. Sit back and watch the destruction as Corinne Duyvis, author of Otherbound and On the Edge of Gone, makes her Marvel debut!
Marvel
(release date: April 18, 2017)
When the team investigates Groot's rapid loss of strength, they find themselves facing an agitated Collector and a dangerous plot.
Publisher
: Marvel
Genre
: superhero science fiction
Release date
: April 18, 2017
ISBN hardcover
: 978-1302902728
ISBN ebook
: 978-1302499105
ISBN/ASIN audiobook
: 978-1662042836 (MP3 CD), 978-1662041433 (audio CD), B08GTWR6Z9 (Audible)
Pages
: 392
Cover
: Dale Keown (illustration), Jason Keith (illustration colors)
Other rights sold
: audio, Russian
English
 
Publisher
:
Marvel
hardcover: 978-1302902728
ebook: 978-1302499105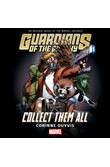 English
(audio)
Publisher
:
GraphicAudio / Dreamscape
MP3 CD: 978-1662042836
audio CD: 978-1662041433
Audible: B08GTWR6Z9
digital, retail: 978-1662042485
digital, library: 978-1662042133
Playaway: 978-1662043185
original audiobook [out of print]: 978-1628513691

audiobook temporarily out of print; will be re-released October 27th, 2020
Russian
Русский
Title
:
Стражи Галактики: Собери их всех
Publisher
:
АСТ (AST)
Translator
: Yuriy Pavlov
Cover artist
:
Eduard Petrovich
hardcover: 978-5170997480
ebook: 978-5170997480

For more about Guardians of the Galaxy: Collect Them All, check out the following articles, interviews, and FAQs.
Perhaps! Contact my publisher; they're in charge of these decisions. If you contact me directly, I probably won't be able to help. I only get a limited amount of copies for personal use, and sending them abroad (which is nearly always the case) costs an awful lot of money. I'd have to spend easily €30-50 of my own money for each requested book, which I can't afford. Sorry!

If an edition isn't listed in the "editions" section of the book's individual page (or if no such section exists), it either means that no translation is forthcoming, or that I'm not yet supposed to talk about it.

Either way, the page will have all the information I'm able/allowed to give you.

If you'd like to see a book translated in your language, the best approach is to reach out to local publishers to bring the book to their attention and express interest in a local edition.

As of this moment, all my books are standalones; there is zero overlap in world or characters.

There are currently no sequels planned, either. I'm always open to the possibility of sequels or companion novels if I get an idea that works, but it's not something I'm currently pursuing.

I have written a companion short story to On the Edge of Gone, however, which was released in the Defying Doomsday anthology in 2016 and reprinted in the Wastelands: The New Apocalypse anthology in 2019. The story, titled "And the Rest of Us Wait," is set in a temporary shelter in the Netherlands and takes place during the same time period as On the Edge of Gone. The novel/story be read independently of each other, and any order.

Not at all. They offered a lot of freedom. They invited me to write for them, I came up with the story and pitched it, and we hashed out details together. It was a wonderfully collaborative experience.

It's set in the regular comics universe. That said, it should be completely accessible to people who have only seen the movie(s).

It was intended and marketed for adults. That said, it's just as suitable for teenagers.
If you need content warnings about potentially triggering or otherwise upsetting content before reading (or choosing whether to read) Guardians of the Galaxy: Collect Them All, I've listed the ones I can think of below.
Includes spoilers.
aftermath of severe trauma, which included kidnapping, prolonged captivity, and involuntary medical procedures
sale of sentient creatures
abuse
assorted physical violence and betrayal, including between friends
gradual loss of identity and memory
terrorism, military involvement, and threats of war